Owls Land Verbal from Versatile 2017 Neumann-Goretti Athlete
Temple landed its' 17th verbal of the 2017 recruiting class in the form of an underrated 2-star Neumann-Goretti (PA) athlete, Emil Moody. Read our interview with Moody here.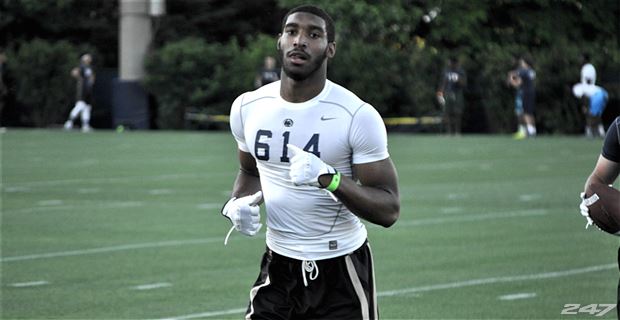 PHILADELPHIA– 2017 Neumann-Goretti (PA) ATH Emil Moody, a local Philadelphia player, announced his commitment to Temple University on Sunday. In addition to playing football, Moody (6-5/210) also currently plays basketball for the Saints. He also happens to be the nephew of hip-hop artist Chill Moody. Moody, a Philadelphia-native, chose to attend Temple over several Power Five schools including Pitt, Syracuse, and Penn State.
Moody spoke with 247Sports Monday evening about his commitment and why he wanted to stay home and play for Philly's college football team, the Temple Owls.
What made you decide to choose Temple out of all of your offers?
I chose Temple because it's a good school: academics are good also. I like the whole coaching staff because they make me feel like they wanted me to be there. It just felt right to make that verbal commit on Sunday.
What position is Temple recruiting you to play for them?
Everybody has been telling me to be a defensive end because I am quick and faster than a lot of tackles, but they (Temple) want me to play wide receiver/tight end because I am faster than a lot of linebackers and stronger than the cornerbacks, so it doesn't really matter to me where I play, just wherever I fit best in the program.
Where else did you hold offers from?
I have looked in to Pitt and I'm going to Syracuse on the 22nd with Quade Green from Midnight Madness, but that's all I've really looked in to. Purdue, Virginia, and Penn State have all showed interest though.
How has playing basketball helped develop your football skills?
I think especially with the way I move my hips. Like, when I'm at tight end going out for a pass, I can post someone up in the endzone like I do in basketball where I jump and go get the ball at its' highest point. It's just a lot more running in basketball since there aren't any breaks.
What are your plans moving forward with Temple: will you be attending any games this season? How firm are you in your commitment?
I have to get back to the coaches, but I'm supposed to be attending the next home game in two weeks (against USF). I'm planning on taking my official visit there sometime in December or January. I honestly don't know right now (about being firm on the commitment) just because I haven't gone any visits yet.
On the education side of Temple, have you looked into any possible majors or areas of study? How are you as a student?
I would like my major in college to be sports administration. I know Temple has a big sports program. I'm a good student, but my teachers always say I could be better. I get A's and B's, but people tell me all the time if I tried my hardest, then I'd probably be at the top of the class.
What makes your game stand out from other players, and what do you still wish to improve on during the upcoming season? 
I just play different. A lot of people don't know about me because I'm underrated. When I found out I was a 2-star athlete I was surprised because I know I'm higher than that because I'm strong, quick, and just a mismatch all-around I think. I still want to work on my footwork a little bit more and my speed. I mean I run a 4.6 (40-yard dash), but if I get it down to a 4.5, that'd be great.
How strong are you?
I'm benching 300+-something about five times (as a maximum). I actually work out with a player from Temple, Karamo Dioubate.
Who is a current NFL or NCAA football player you mold your game after or can compare yourself to and why?
My game is like Dez Bryant because we both bring emphasis and emotion to the game. I'm quiet, but I bring out my emotion on the sideline during games. I think I'm built though like Julio Jones or Calvin Johnson because they are both big wide receivers.
What should Temple fans know about you as a person?
I'm a good person and I'm a good player. Just be ready. If I fully commit to Temple then be ready because they will be some great seasons at Temple University.